befriending your body
online yoga studio
awaken your body, mind, and spirit
This program is for you
if you want to exercise to experience, enjoy, and reverence your body.
if you want to explore and develop a meaningful, personal meditation practice.
if you know that change takes time, and practice, and you're willing to commit to that practice.
if you intuitively feel that moving your body is a spiritual necessity.
if you want personal support from a caring, knowledgable yoga teacher.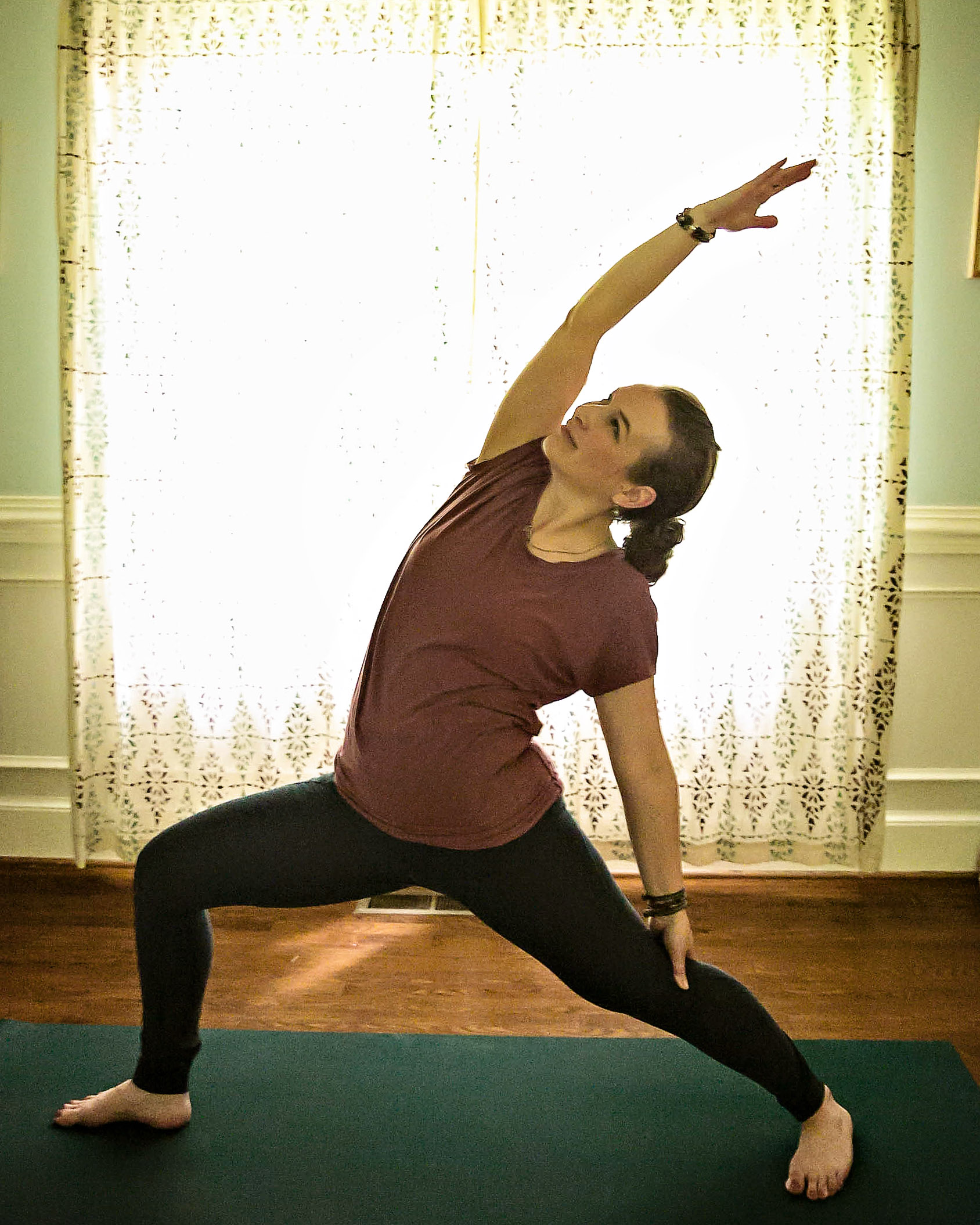 I've enjoyed yoga classes over the years.  I've really enjoyed Jessica's yoga classes because her classes aren't just about the exercise but also about listening to your body and mind.  I am learning to recognize strengths and weaknesses.  I've never taken a class before when I have been instructed in anatomy and mindfulness at the same time.  I am enjoying becoming more in touch with my body for better understanding and personal health.  Thanks a million, Jessica!
-Jeannie
Yoga with Jessica has been an amazing experience for me. As a busy mother of 6 who runs her own company and serves in the community, I have been searching for a way to find more balance and awareness in my life. Jessica's classes have been just the help I was looking for! Her calm approach to guiding the body and mind through yoga and meditation is easy to follow, even for a beginner. I highly recommend joining Jessica's classes!
-Breian
I have been practicing yoga for a few years now. One of my main focuses has been learning about my body to support it in my struggle with prolapse. With Jessica's movement labs and flow classes, I have been able to gain understanding faster and bring the ideas and movement into my normal life in such a helpful way, a way that really wasn't available to me before! It has increased my confidence and joy in moving through the day. I also really appreciate Jessica's approach to yoga as being a practice to learn about our bodies and how we face life in general; her cues and subtle ideas have helped me learn a lot about myself physically and emotionally. I would recommend her class to anyone who wants to understand their body in a deeper way.
-Amy
A typical drop in yoga class at a studio costs $15-$20.  With up to 10 new classes a month and access to all past class recordings, this program is easily worth $200 a month!
Is the practice of yoga compatible with being a member of the Church of Jesus Christ of Latter-day Saints?
I am a devout, card carrying member of the Church of Jesus Christ of Latter-day Saints and love practicing yoga in the light of the restored gospel.  We have a unique view of the sacred, eternal nature of our physical bodies and I find yoga practice a beautiful way to worship my Heavenly Father and his son Jesus Christ with my heart, might, mind, and strength.
On meditation President David O. McKay once said, "We pay too little attention to the value of meditation, a principle of devotion. In our worship there are two elements: One is spiritual communion arising from our own meditation; the other, instruction from others, particularly from those who have authority to guide and instruct us. Of the two, the more profitable introspectively is the meditation. Meditation is the language of the soul… Meditation is one of the most secret, most sacred doors through which we pass into the presence of the Lord."
I welcome students of all faiths, but my restored gospel perspective finds its way into everything I teach.
What is the live class schedule?
Live classes are typically taught Monday, Wednesday, and Friday Mornings at 8am Eastern Time.  One or two Restoratvie Flow classes will be taught on Thursday evenings at 8 pm Eastern.
As the membership grows I will definitely take into account the time needs of members.  Don't hesitate to reach out to me about your scheduling needs using the email form at the bottom of this page.
How long should I plan on staying in the program?
I hope you never leave!!
I would suggest staying at least 3 months to really solidify healthy patterns in your mind and muscle memory.
That said, it is a month to month program and you can cancel your monthly subscription at any time.
I'm not flexible, can I do yoga?
Of course.  Lack of flexibility is definitely a compelling reason to practice yoga!  As you get more familiar with your body and nervous system you will find new flexibility as well as supportive strength.
I have an injury. Can I do yoga?
I am not a doctor or physical therapist and can't diagnose or treat any injury or condition, so definitely get cleared by your health care provider if you have concerns.
I can guide you in supportive movement and offer suggestions and modifications, but YOU are the authority on your body.  I will always tell you to listen to your body.
Do I need special yoga props to do your classes?
Nope.  A chunk of carpeted floor is all that is necessary.  Props are nice to have, though.
Here's a list in order of priority:
I would suggest getting a yoga mat that is thin and firm enough to find balance on when you are standing.  (Squishy, cushy mats make balance unstable.)
I'll always suggest you have a folded blanket or beach towel to sit on to help get your pelvis in a good position for seated poses.
A belt, tie, scarf, hand towel, or yoga strap can come in handy when you need your arms to be a little longer.
If you want to get all propped up, a pair of firm foam or cork yoga blocks are super versatile in supporting and deepening your practice in various ways.
The ultimate luxury is a yoga bolster for restorative practices.  A buckwheat filled meditation cushion is also a beautiful, bum comforting addition.
Do you do private sessions?
Yes.  I do private sessions in person and over Zoom.  
I always start new private clients out with a Yoga Movement Screen.
In a Yoga Movement Screen I guide you through 9 simple poses and watch your movement patterns.  From there I work with you to design a 15 minute practice that you can do on your own at any time.  I recommend you do several follow-up sessions as well.
Yoga Movement Screens are $75.  $45 for members.
Follow up sessions are $65, $35 for studio members.
How does payment work?
When you register for the program you will pay through PayPal with a credit or debit card or your PayPal account.
Monthly payments will be taken from your form of payment automatically.
What is the cancelation policy?
I do not give refunds.  You can cancel your monthly subscription at any time.
Now is the time to
Live the Life You Want